The latest version of Photoshop (Photoshop 2022), dropped in November 2021 and brought with it some useful new features and tools. Powered by Adobe Sensei, the software's greatest leap forward is in its artificially intelligent neural filters, which scans images and cleverly makes changes to complete a multitude of tasks.
Simply hover over subjects to view an automatic selection for faster masking, share images with others for in-app feedback and commenting (great for use in teams of creatives), improved cross-compatibility with Illustrator means vector images can now be imported with colour, stroke and other properties - maintaining layer structure and vector masks.
New beta neural filters are available for experimenting with, choose from the landscape mixer, colour transfer and harmonisation. Or opt for existing neural filters to transfer styles, colourise black and white photos and more. All this helps Photoshop stay as among the best photo-editing software available right now.
Look back to Photoshop's October update release and try out Photoshop's on the web beta program which provides limited editing functionality but integrated team communication via the Creative Cloud site.
Layers-based image editing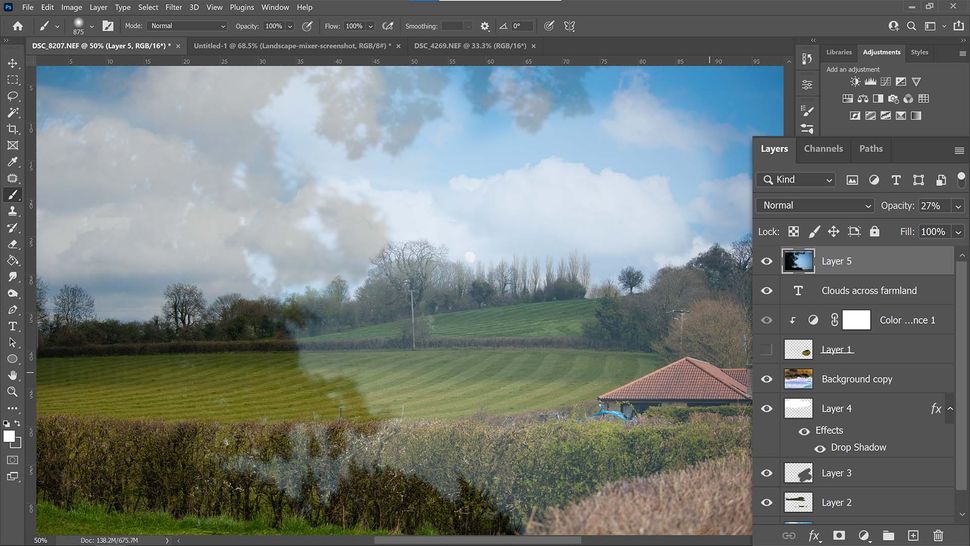 The ability to add seemingly unlimited layers in a project means the sky's the limit when it comes to editing images. Each layer can contain photos, graphics, or text and are easily masked or blended together with various modes and opacity options. Every useful tool you might need to edit exposure, colour, definition, size or shape are all available both as destructive and non-destructive entities via the image adjustments tab and adjustment layers menus for ultimate flexibility.
Options to save progress in edits favour digital artists who like to go back over their working while creating, refining brush strokes, blending modes, or masking out unwanted sections. This advantage is further extended thanks to the ever-present history panel which saves every edit made on an image.
Useful for mixed media
Cut, shape, skew, distort and morph images, text and shapes in a way that's useful for photographers wanting to refine details for portfolios, but also extends to other mixed media creators. Frame animations are simple to make using the tools for timeline animations making Photoshop useful for some moving graphics as well as editing stills.
Thanks to Photoshop's link with Adobe Stock it's now easier than ever to create graphic designs for websites, posters, advertising and more but professional designers will likely use other software such as InDesign and Illustrator for the bulk of their work, occasionally dipping into Photoshop for specific tools not found elsewhere.
The same can be said for illustrators who wish to use Photoshop - thanks to the new integration between Adobe Illustrator and Photoshop it's easier to maintain layer structure and other properties between softwares. Unfortunately, 3D creatives will have to look elsewhere for their 3D designs as Adobe are planning on phasing this part of the software out due to technical issues with newer operating systems.
Established neural filters
Neural filters, powered by AI machine Adobe Sensei, are nothing new in Photoshop but there are several filters that are now established in the editing suite that were once in beta. Skin Smoothing aids speedy workflow when editing portraits offering up tools to blur and smooth skin – something that is notoriously difficult in portrait retouching.
For images that need a boost in size simply crop into your subject with the filter selected and the Super Zoom feature will automatically fill in lost detail whilst resizing simultaneously. Perfect for both cropping in on details in a larger image or enhancing the size of distant subjects.
Of course, lots of processing can start degrading raster images as each pixel is morphed and distorted, so the JPEG Artefacts Removal works to address visual issues brought about through JPEG compression.
Once the reserve of patient painters, colourising black and white photos is now just a click of the button away thanks to the Colorize neural filter which also provides plenty of editing points and control for enhanced colourisation. Though, we still think that it's best used as a starting point, then further refined by using custom brushes and colours. And for a bit of fun apply other artists' styles to your own work with the Style Transfer filter.
Beta neural filters
Beta filters are included in Photoshop by Adobe in a bid to help users try out potential, future tools and as a way of getting feedback on how they work. Portraiture can be altered through the Smart Portrait filter which can make changes to facial expressions, features and hair though we've found the expressions to be a tad odd-looking.
The Harmonization neural filter aims to transfer the colours and tones from one layer to another for better visual flow (like taking the yellow leaves of a backdrop and warming up a portrait composited on top). Landscape mixer works intelligently to apply options like sunset lighting and changing seasons in landscape photographs but is sometimes let down with its blurring of subtle lines such as in the freshly mown grass as seen in our image here.
To alter depth of field after-the-fact, the Depth Blur filter can analyse images and redress this with an intelligent blur and masking action. Results are impressive but processing times can be lengthy even on fast machines, though it's something smartphones have been doing in an instant for quite some time now for portraits.
Other new features include Color Transfer which works similarly to Style Transfer by taking preset images and applying the same colour value to the image you're working on, with some key control sliders for fine adjustment. And Makeup Transfer can transfer eye and mouth makeup from one image to another intelligently without manual input.
Other new features in Photoshop 2022 include:
- Extended plugins
- Enhanced management of colour and HDR features
- Unified text engine - A new modern oil paint filter
- New gradient tool interpolation options
- Improved export options
- A new content authenticity initiative in beta
- 3D features slowly being removed
- New camera and lens support
File management
The biggest downside to using Photoshop is certainly not in its editing capabilities, but rather its lack of file organisation. Images can be imported, exported, opened and saved to multiple file formats, which is extremely useful. Photoshop Documents can also be opened in many other image editing softwares and other Adobe suite programs as well. But if you want to organise files properly you'll have to do it yourself on local storage or flip over to Lightroom or Lightroom Classic. Adobe Bridge is useful (and free) too, but doesn't offer editing features like Photoshop or Lightroom.
System requirements:
Windows:
CPU: Intel or AMD processor with 64-bit support, 2 GHz or faster with SSE 4.2 or later
Operating System: Windows 10 64-bit (v1909 or later)
RAM: 8GB
Storage: 4GB
Monitor Resolution: 1200 x 800
Mac:
CPU: Intel processor with 64-bit support, 2 GHz or faster with SSE 4.2 or later
Operating System: macOS Catalina (v10.15 or later)
RAM: 8GB
Storage: 4GB
Monitor Resolution: 1200 x 800
Should I buy Photoshop 2022?
Photoshop 2022 is so good at so many things it's hard not to recommend buying it. Appealing not only to photographers and retouchers, it's also useful to graphic designers, digital artists, animators and others. Layering, masking, adding filters and painting is all a breeze once you're up and running. Drawing paths using the pen tool or creating custom shapes also makes graphic design a doddle.
Though its monthly or annual subscription cost is a little steeper when buying on its own, purchasing via the Photography Plan makes it a more worthwhile investment as it offers both Lightroom and Lightroom Classic as well - vastly improving the workflow for batch processing and file management.
For users more interested in faster workflows, less minute technical retouching and artificially intelligent image editing they might consider Skylum's Luminar AI which is promoted as the world's first all AI-powered image editor. It processes images excellently and takes some of the more mundane editing tasks away from the user, making it a better option for those who hate sitting in front of a screen.
Unfortunately, it's not much good for file organisation as this isn't its main focus. For that you'll have to turn to Lightroom, Bridge, or competitor software such as Capture One Pro which does a fantastic job.
Read more: Photoshop vs Lightroom